Do you know that what Salman Khan is doing in Bollywood today, Sir Don Bradman had done that work long ago.
Don Bradman's film got rejection from Australia Road Safety Council
Sir Don Bradman. There has never been a bigger hero in cricket than him. But, this hero of cricket has also been seen playing the role of a hero in films. Very few people would know this thing. In 1938, the film 'The Flying Doctor' came, in which Bradman was seen shirtless. Meaning that what Salman Khan is doing in Bollywood today, Bradman had done that work long ago. Well, here's the talk of his film, which was rejected. This film came in 1948, in which the great Sir Don Bradman of Australian cricket was in the lead role. His work in this film, which tells the meaning of Road Safety, spoke in the same way as a bat in cricket. Despite this, the film was rejected outright by the Australian Road Safety Council.
The purpose of the film was to inform the children about road safety, to make them aware of its rules. The film begins with some children playing cricket on a wide road. During this, a child runs to catch the ball, only then it collides with the car. After the collision, his other companions run to him to know his condition. Sir Don Bradman was driving the car he collided with. They also park the car on the side and reach to know the condition of the child. The children shudder to find Bradman standing in their midst.
If you want to play cricket for Australia then…
NFSA has shared a clip from the Don Bradman film, in which the Australian great tells the kids, "Listen kids… I loved playing cricket like you. But if you want to play for Australia, there are some things you shouldn't do." Bradman's so-called children also eagerly ask him what not to do? To this Don says, "Stop practicing or playing cricket on the road. Doing so can cause injury to many children. Their lives can also be lost. There is a park for playing cricket. After this, they make those children sit in the car and drive them on the streets to explain the purpose of their words.
#DonBradman provides road safety tips to kids, 1948.
The legendary cricketer was born 100 years ago today, 27 August 1918.
Check out our vintage #cricket collection: https://t.co/wdLvjtioXG pic.twitter.com/AtmhnufDkY

— NFSA -National Film and Sound Archive of Australia (@NFSAonline) August 27, 2018
Bradman's film on road safety got rejection
However, according to a report published in the Canberra Times, Bradman's film, which tells the meaning of road safety to children, is rejected by the Australian Road Safety Council. According to the council, in this film, Bradman tells children about road safety. But he himself seems to be breaking many rules.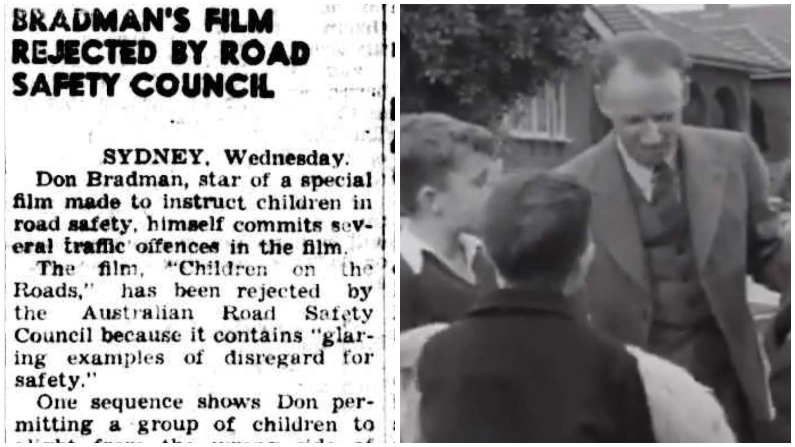 Don Bradman's Test career lasted 21 years. During this he scored 6996 runs in 52 matches. And his batting average was 99.4. Bradman has scored a century in every third innings of his Test career.
Also read: Argentina vs Brazil, Copa America 2021 Final: Messi Mast, Neymar Paast, Brazil defeated Argentina to become champion after 28 years
.