That special shot of Glenn Maxwell will become his new weapon against the opposing teams in IPL 2021.
Reverse sweep: Maxwell's new weapon
Before the start of IPL 2021, all the teams are weighing their strength. And, the best and unique way to do this is to play two practice matches by making two teams among themselves. Royal Challengers Bangalore is also doing the same now. The team played its second practice match. The special thing about this practice match is that for the first time Maxwell also landed on the ground through it.
Given the poor history of Maxwell's batsman in the IPL, all eyes are on him. This is also because the RCB, commanded by Virat Kohli, has betted 9 crore rupees on them in mini auction. But, it seems that the effect of such a huge amount is going to be visible this time.
Maxwell played atishi innings
What will be special about Australia's all-rounder Glenn Maxwell in IPL 2021. He showed the trailer for this in the second practice match of RCB. He represented Atishi batting in the match. And, a special shot was seen playing again and again.
Glenn Maxwell's Day Out @Gmaxi_32 came. Maxwell reverse swept. And Maxwell had fun. Watch The Big Show and Kyle Jamieson at their first practice session for #RCB ahead of #IPL2021.#PlayBold #WeAreChallengers pic.twitter.com/naMXQcAROQ

— Royal Challengers Bangalore (@RCBTweets) April 6, 2021
Maxwell In Fire Mood 💥🔥
Action Soon…..

HD Link ➡️ https://t.co/cuKB3NUIFw@Gmaxi_32 @RCBTweets pic.twitter.com/ywRxVSRPlW

– AB From Fans Trends ™ (@AbdeFansTrends) April 6, 2021
Reverse Sweep Maxwell's new weapon
This was his special shot in reverse knock of 44 runs played by Maxwell's 31 balls. In practice matches, Maxwell was seen playing these shots continuously. This is an effective shot against spin bowlers. And, this is how Maxwell will be seen making weapons in the IPL happening in India this time.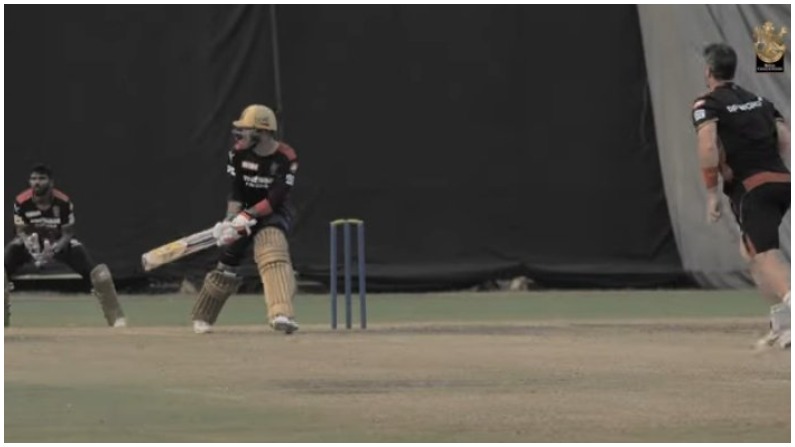 Maxwell's team chased 225 runs in 19.2 overs
However, thanks to Maxwell's stormy innings and Rajat Patidar's century in the second practice match, his team won by 5 wickets. Maxwell's team achieved the target of 224 runs in 19.2 overs.
Also read: Broadcaster set fire, Rohit and Virat collide on Twitter! Trailer showing the opening match of IPL 2021
.