Udaybhan became Haryana Congress state president.
The Congress high command has made a big change in the Haryana party unit. The party has given the command of the state from Kumari Selja to Udaybhan, that is, Udaybhan has now been made the President of Haryana Congress. Apart from him, 4 people have also been made working president.
Haryana (Haryana) In the Congress high command has made a big change in the post of state president. During this, Congress has appointed senior leader of its Haryana unit Uday Bhan as the new president of the State Congress Committee. At the same time, according to a statement issued by the party's organization general secretary KC Venugopal, Shruti Choudhary, Ram Kishan Gujjar, Jitendra Kumar Bhardwaj and Suresh Gupta have been made working presidents along with appointing Uday Bhan as the president of Haryana Pradesh Congress Committee. Let us tell you that Uday Bhan is considered close to former Haryana Chief Minister Bhupinder Singh Hooda. Before this, he has also been an MLA several times, he has replaced Kumari Selja.
According to party sources, the Congress high command accepted the resignation of Kumari Selja and announced the name of Udaybhan as the state president. Along with this, 4 working presidents have also been appointed. In which former MP Shruti Chaudhary, former MLA Ram Kishan Gurjar, Jitendra Bhardwaj and Suresh Gupta have been appointed as working presidents. At the same time, Udaybhan said that the organization which is lacking, it will be removed.
Congress will reach out to both Jat and Dalit communities
According to sources, the party not only wants to cultivate the Jat community by appeasing Hooda, but it also does not want to send the wrong message of removing Shailja. In such a situation, Hooda camp leader Udaybhan has been made the state president. He is a four-time MLA and is close to Hooda. Apart from this, he is also a Dalit leader. In this way, Congress will also do damage control to remove Dalit leader Kumari Selja and the demand of Hooda Camp will also be fulfilled. Let us inform that apart from this, Kuldeep Vishnoi, son of former CM and non-Jat leader Bhajan Lal, has also come to Delhi several times to meet the high command. In such a situation, there were speculations that he could be made the state president. Philhas he is MLA from Adampur seat.
Big change in Haryana Congress State President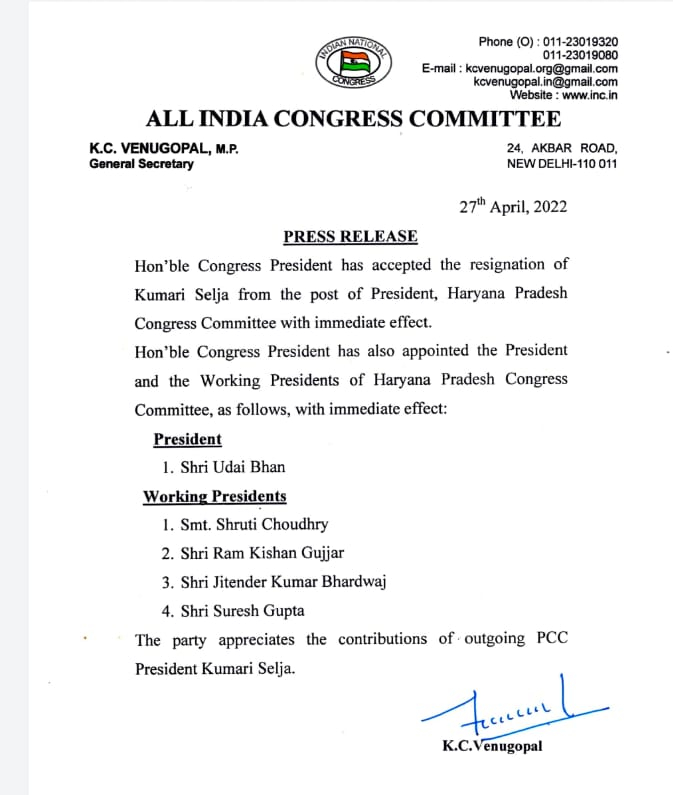 : Language Inputs
"This post is sourced from newspapers, magazines and third-party websites. For more information please check NewsNCR Disclaimer"
.