SIP investment: Even a small amount invested in a mutual fund scheme through State Bank or SBI SIP can give you huge returns due to the facility of compounding power. You can start investing in it with just Rs 500.
The corona pandemic has forced people to focus on investing and saving. People have felt that there is no limit on spending, but in difficult times only saving is useful. Whatever is saved in time, only in difficult times comes in handy. In such a situation, people now want to save, but there is also a desire for higher returns. Traditional savings schemes are running but without any heart. People want to invest money in such a scheme where there is more return in less time and less money. As a result of this, the trend of mutual funds and cryptocurrencies has increased. Systematic Investment Plan (SIP) also comes in mutual funds.
SIP facility is a special scheme offered by mutual funds. This is such a scheme in which by saving a few thousand rupees every month, returns can be found in lakhs or crores. Under SIP, one is allowed to invest in a fund for a fixed period. Investors can invest in mutual funds through SIP from Rs 500. Every month a fixed amount is deducted from the investor's bank account which is invested in mutual funds. After this, the investor is given a fixed number of mutual fund units in return based on the Net Asset Value (NAV).
How to start SIP
To get more benefits in SIP, it is advisable to invest for a long period. Money is deducted from your account through SIP which gets invested in mutual funds. The best part is that you can start investing with little money. You can also stop investing whenever you want. After starting the SIP without any interruption, its tenure date can also be changed. You can increase or decrease the investment amount if you wish. If you want to increase the amount, then there is no need to start a new SIP. You can easily increase the amount of your existing SIP.
Bumper returns guaranteed?
There is no specific rule as far as the rate of return or interest is concerned. It totally depends on the market. Returns increase as the market rises and earnings may decrease if the market goes up. But SIP also gives you protection on the amount deposited in mutual funds. The sooner you start investing in SIP, the more your money grows over time. State Bank gives this special opportunity to its investors. Even a small amount invested in a mutual fund scheme through State Bank or SBI SIP can give you huge returns due to the facility of compounding power.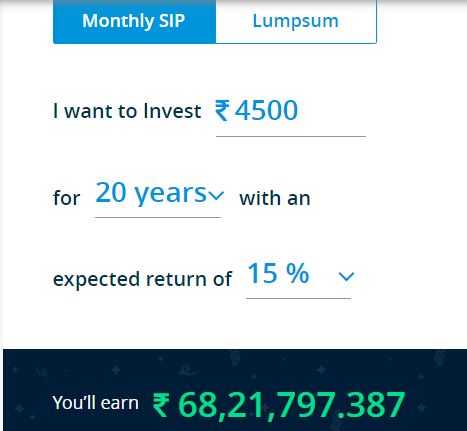 SBI SIP
SBI's SIP works like a recurring deposit. In State Bank SIP, a fixed amount is deducted from your account every month, weekly or every day for investment on a fixed date. This amount gets invested in mutual funds. It can be understood as an example. Suppose you invest Rs 500 every month through SIP. The NAV or Net Asset Value of the SBI Mutual Fund plan chosen is Rs 50 when you invest for the first time. In this way, we buy 10 units of mutual fund through SIP. Next time if NAV increases from 50 to 60 then you will be able to buy 8.33 units instead of 10.
convert lakh to crore
The more years you invest in SIP, the returns will increase accordingly. Although it is dependent on the market, but so far a profit of more than 15% has also been shown. Investments for a period of 20 years are considered good. Accordingly, if you deposit Rs 4500 every month for 20 years and expect 15% return, then you can get Rs 68,21,797.387. Now you can increase it in crores if you want. Just for this you have to take top up plan of SIP. After every year, a top up of Rs 500 per month has to be done. With this, the amount of Rs 4500 will be converted into Rs 1,07,26,921.405 after 20 years with 15% return.
read this also: Changes will happen due to new rules of the government, salary will come down in the account and those with PF account will benefit
Sponsored Link:
Learn more for a dependable storage facility in Sanford Maine Storage you're looking for quickly and easily.
In case you're interested in knowing more info on Online Palengke, stop by https://savvys.ph