Justice NV Ramanna is the senior most judge after SA Bobde. Justice SA Bobde's term ends on April 23.
Justice NV Ramanna appointed the next Chief Justice of the country
President Ram Nath Kovind signed the appointment of Justice NV Ramanna as the next Chief Justice of India (CJI).
Justice Ramanna will be the 48th CJI, he was appointed to the Supreme Court on 17 February 2014. After the retirement of CJI SA Bobde on 23 April, he will take over as CJI on 24 April 2021. According to the seniority criteria after the Supreme Court in appointing CJI, Justice Ramanna's name was recommended by CJI SA Bobde to hold the supreme judicial office of the country.
Before retiring on August 26, 2022, Justice Ramanna would serve a long tenure as CJI for more than 16 months. In fact, this will be the longest tenure as Chief Justice of India for almost a decade. Late Justice SH Kapadia was the last judge of the long tenure from May 2010 to September 2012. Recently, Andhra Pradesh Chief Minister YS Jagan Mohan Reddy wrote to CJI Bobde regarding the complaint about Justice NV Ramanna in Amravati land scam. However, after following an in-house procedure to investigate the allegations leveled by Reddy, the Supreme Court dismissed it.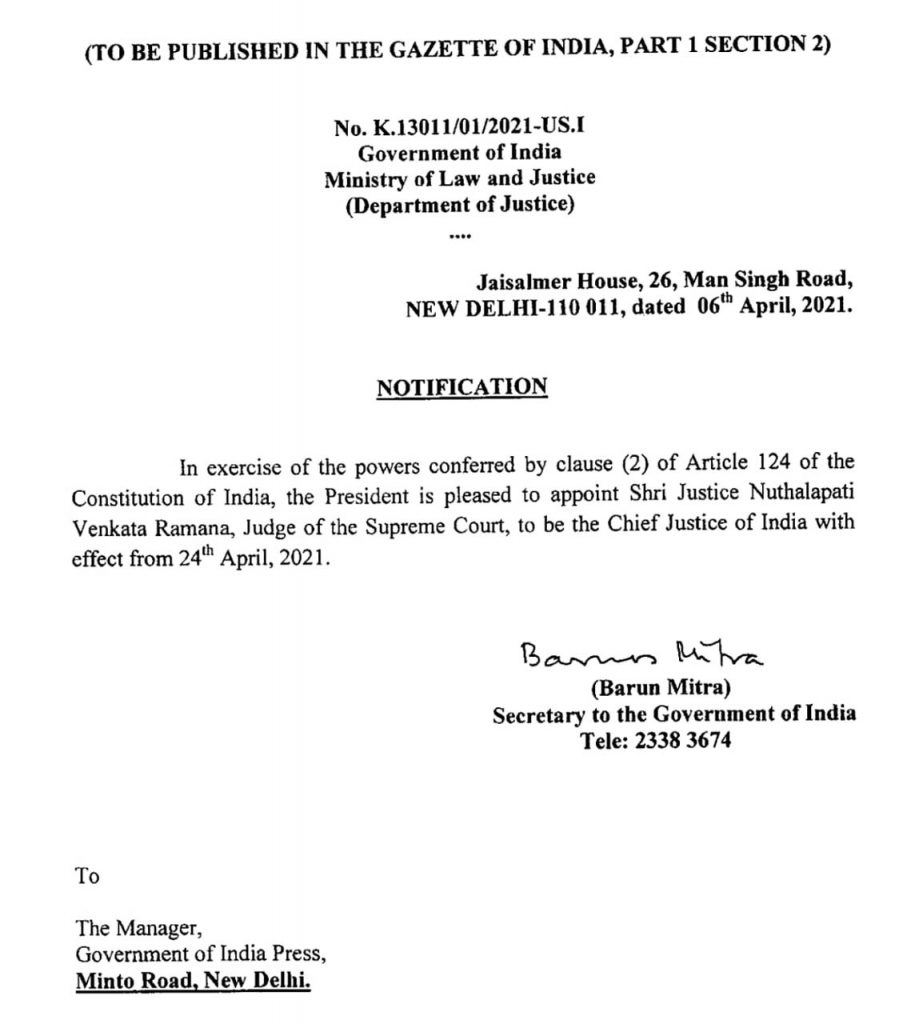 Who is the Chief Justice Ramanna?
Justice Nathulapati Venkata Ramanna was born on 27 August 1957 in Krishna district of Andhra Pradesh. On 2 February 2017, he was appointed as a judge of the Supreme Court. There are only two years left of his tenure and he is going to retire on August 26, 2022. On 10 February 1983, he started his advocacy. Justice Ramanna has also been the Additional Advocate General of the Government of Andhra Pradesh. Ramanna, who belongs to a farmer family, is a graduate in science and law.
He has practiced law in Andhra Pradesh High Court, Central Administrative Tribunal and Supreme Court. He has also worked on the panel council for agencies of state governments. On 27 June 2000, he was appointed as a permanent judge in the Andhra Pradesh High Court. From 13 March to 20 May 2013, he was the Acting Chief Justice of the Andhra Pradesh High Court.
Shortage of four judges in Supreme Court
There is a shortage of four judges in the Supreme Court, CJI Bobde is about to retire, while Justice Indu Malhotra has retired. Apart from this, Justices Ashok Bhushan, Rohinton Nariman and Naveen Sinha will also retire this year.
Also read- Bengal Assembly Election 2021 Phase-3 Voting LIVE: 14.62 percent voting till 10 am, Hooghly highest voting
Also read- BJP Sthapna Diwas: Shyama Prasad Mukherjee's sacrificial power, Article 370 removed from Kashmir, says PM Modi
.