As soon as this amount reached abroad, it was converted into the currency there. From this point of view, it is also coming to the fore that this online fraud company was also violating international laws by converting currency internationally.
Police revealing the matter
A new app for online fraud has come in the market. The name of this new and very dangerous app of fraud is 'Power-Bank'. About 50 lakh Indians have also downloaded this app from Google Play Store in four months. Within a few days of being downloaded by lakhs of people, the people who fell under the guise of this app have so far got a financial loss of about Rs 250 crore sitting at home. On Tuesday, the Uttarakhand Police has busted the app which has cheated such a big online.
According to the information, the wires of this dangerous app are also connected to the hi-tech city of Noida, adjacent to Delhi, the capital of the country. At present, the Special Task Force of Uttarakhand Police is engaged in unearthing the strings of this big gang of cybercrime and online fraud. News of some Non-Resident Indian (NRI) businessmen being involved in this international hoax of online fraud is also coming out.
online fraud going on internationally
On Tuesday evening, all these sensational facts were disclosed jointly by Additional Director General of Police (Additional Director General of Police) Uttarakhand Abhinav Kumar and SSP Ajay Singh of Uttarakhand State Police Special Task Force (STF). In this case of online fraud going on internationally, at present, a thug has been caught in the hands of the State Special Police Task Force. Whose name is Pawan Kumar Pandey. The arrested accused is a resident of Green View Apartment, Sector-99 Noida.
So far 19 laptops, 592 SIM cards, 5 mobile phones, 4 ATMs, 1 passport have been seized by the STF of Uttarakhand Police. According to the information received from the Uttarakhand State Police Headquarters, there has been strong evidence of involvement of some NRI traders in the online fraud business. Efforts have also been intensified to reach them legally.
power bank means path of destruction
In this fraud, some businessmen present abroad have been found using the bank accounts of India unnecessarily. The app named Power-Bank, through which this black business of online fraud was flourishing, was made available on Google Play Store in February 2021 (the same) year. It was tempted to invest in this power bank that the amount would double in 15 days. In this regard, a case was first received by the Cyber ​​Crime Police Station of Dehradun district. This complaint was given by Rohit Kumar, resident of Shyampur (Haridwar) and Rahul Goyal, resident of Kankhal.
Both the victims were caught in the trap of this power bank app and had got themselves installed sitting at home with a loss of about one and a half and two lakh rupees. A joint team of Inspector Maheshwar Purwal and State STF was formed to investigate the matter. A case in this regard was also registered in Tehri district of the state.
Arab hit in four months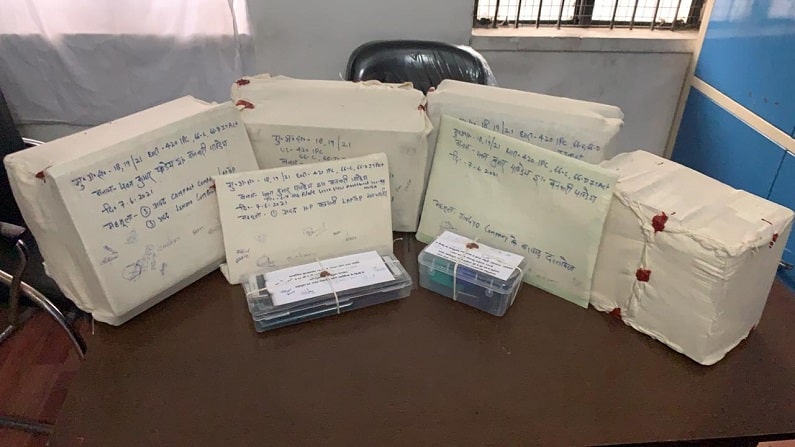 The investigative teams first scanned the records of the bank accounts in which the thugs had deposited the stolen amount in the online merchant/wallet. It was found that till now this gang has cheated about 250 crores in a short span of just four months. Whereas the amount stolen from both the victims of Haridwar was transferred through RAZORPAY and PAYU to the accounts of a private bank and in Paytm Bank. In further investigation, transactions of about 250 crores have also been busted in these accounts so far.
On the basis of the details received from the bank, Uttarakhand STF and Cybercrime police station reached Pawan Kumar Pandey till his cheating base located in Noida. According to the state STF and other teams involved in the investigation, so far this gang has got about 50 lakh people to download this cheating app. During interrogation, the main accused confessed in front of the police that some Indian businessmen present abroad are also involved in this business of cheating.
The web of fraud spread to foreign countries
This gang used to make people deposit money online in the power-bank through their brokers sitting abroad to trap the victim in India. By pretending that the amount will double in 15 days. In this fraud, only the mobile numbers of Indians and their bank details were used. Initially, to keep people in the lurch, for some time their deposits were also increased and refunded. So that people can have faith.
After that this thug company would start showing colors. Even a single penny of the deposited amount used to refuse to return it on all pretexts. This thug company has also registered itself in the Registrar of Companies. So that if someone wants to cross check, then no one can suspect this fraud company at first sight or easily. In the investigation so far, it has been found that this fraud company was sending the money deposited in its accounts into crypto currency and sending it abroad as well.
complaints started coming one after the other
As soon as this amount reached abroad, it was converted into the currency there. It is also coming out from this perspective that this online fraud company was also violating international laws by converting currency internationally. However, now along with the police, the expectations of getting it done by other agencies are also increasing.
By reaching the roots of this international online thug company, they can be destroyed. This chain of organized crime can be broken. So that in the coming time other people can be saved from falling prey to it. According to the Uttarakhand State Police STF, 20 other complaints have also been received so far. Their in-depth investigation is also going on.
Also read-
-Operation "Desert Safari" Part-3 : "Bahut wait kar liya" CBI got the deal fixed with "underworld" for 4 crores by the Bol family!
–NewsNCR EXCLUSIVE: The death of an innocent was an 'accident' for the police, know how forensic science experts termed it 'murder'?
.