West Bengal Election 2021: Union Minister Dharmendra Pradhan said that CM's intimidation, intimidation and use of wrong language puts him in worry. They are using such language for fear of defeating elections.
Photo: BJP delegation met Election Commission.
The BJP (BJP) delegation led by Union Minister Dharmendra Pradhan met the Chief Electoral Officer (CEO) of the state and speeches of the CMC of the state and TMC candidate Mamata Banerjee from Nandigram (Nandigram) Seeking to censor, she alleged that she is inciting people and this can lead to violence.
The BJP delegation included Dharmendra Pradhan as well as BJP leader Shishir Bajoria. He submitted a memorandum to the Election Commission. Demanded to stop the ferry service connected with Nandigram, impose Section 144 in other areas of Nandigram and transfer some officials.
Put the exterior in jail
Dharmendra Pradhan said, "The first phase has been well chosen. The second step should also be done well. For this, it is necessary that the Election Commission takes steps, so that a peaceful election takes place in this phase. He said that those who are outsiders, put them in jail, irrespective of any party. Is working against the Election Commission and the Indian Constitution. "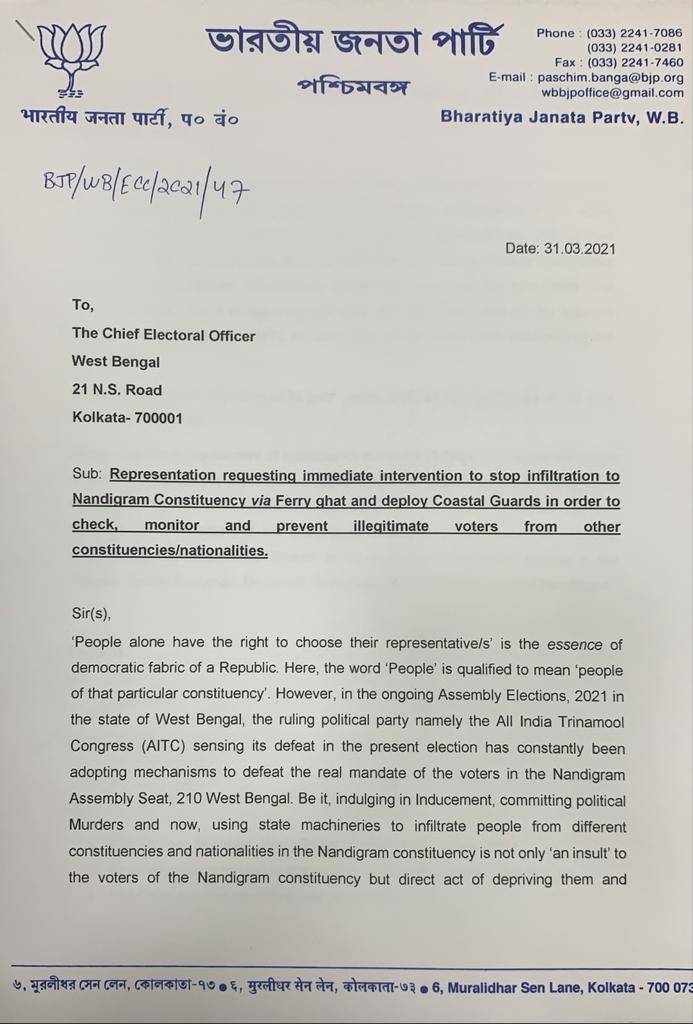 Also read- Bengal Election 2021: Section 144 applied in Nandigram, Mamta said- 'goons of other state threatening voters'
Fearing defeat, this type of language is being used
He said that intimidation, intimidation and use of wrong language of the CM makes him anxious. They are using such language for fear of defeating elections. His statement is creating social tension. The use of language like beat and beat is a matter of great concern. This kind of tension spreads in the society by giving such a statement of people sitting in a responsible post like CM. The Election Commission should take action to curb their language.
Also read- Garji Mamta Banerjee in Nandigram, said- 'I am Royal Bengal Tiger, tiger injured more than dead is more dangerous,'
Also Read- West Bengal Election 2021: After the first phase, BJP released a new song, "Tata Bua, Tata Trinamool"
Also read – Mamta was angry with Amit Shah, said – 'Sitting in Kolkata, plotting, who is running the Election Commission?'
Now read all the news of West Bengal in Bangla, click tv9bangla.com
.