Chhattisgarh Naxal Attack: Union Home Minister Amit Shah is on a tour of Chhattisgarh on Monday and has paid tribute to the martyred soldiers.
Congress leader Rahul Gandhi (File Photo)
In Chhattisgarh, 22 jawans have been martyred in the Naxalite attack ambushed by security forces. Meanwhile, former Congress president Rahul Gandhi has asked sharp questions about the operation being run against the Naxalites. Referring to a media report, he asked that if there were no intelligence failures, then the ratio of death means that it was an operation designed incorrectly and did not reach the end correctly. Our soldiers have no choice for cannons, who should be sent to be martyred whenever they want.
Media report quoting CRPF Director General Kuldeep Singh said that there was no intelligence failure in the operation. It has been reported that about 400 Naxalites were involved in the Naxalite attack in Chhattisgarh. These Naxalites surrounded the security forces in the area from three sides and attacked them with machine guns and IEDs for several hours. It is believed that 10-12 Naxalites have also been killed in this encounter.
A contingent of about 1,500 personnel of the security forces had launched a search to destroy and destroy the Naxals' presence in the area around the border of Bijapur-Sukma district. The troop consisted of CRPF special unit 'Cobra' personnel, some teams from its regular battalions, a unit of its Bastariya battalion, District Reserve Guard (DRG) and other jawans affiliated to the Chhattisgarh Police.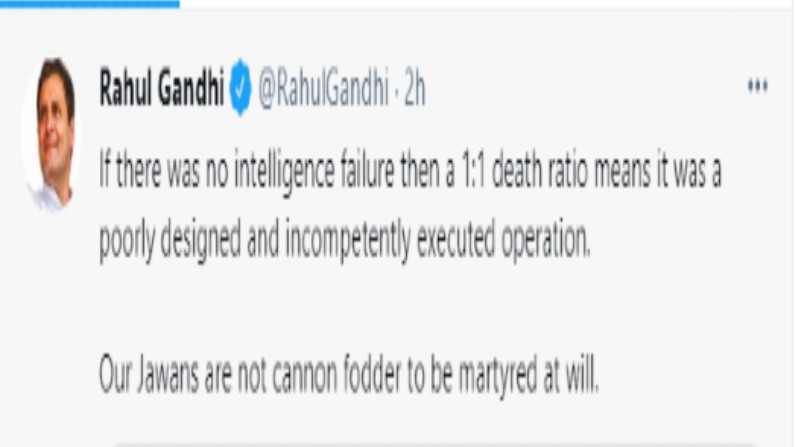 400 Naxalites attacked ambush
On Saturday, around 790 jawans left in the Jagrgunda-Jongaguda-Tarrem area on the secret information that the Naxalites are starting an aggressive campaign. An official said that at least 400 Naxalites, led by the most wanted Maoist commander and leader of the so-called 'People's Liberation Guerrilla Army (PLGA) Battalion No.1' Hidma 'and his ally Sujatha, ambushed the security forces in the area, Due to the inaccessible, dense forest and low number of camps of the security forces, it is considered a stronghold of the Naxalites. Of the 22 personnel killed in this encounter, eight CRPF personnel, of which seven are from Cobra Commandos and one from Bastaria Battalion. The rest are DRG and Special Task Force personnel. One CRPF inspector is still missing.
Amit Shah paid tribute to the martyred soldiers
Union Home Minister Amit Shah is on a visit to Chhattisgarh on Monday and has paid tribute to the martyred soldiers. It has been told that the Union Minister will also preside over a meeting to review the security situation arising after Saturday's incident. Shah will meet the injured security personnel at the hospital. 30 soldiers have been injured in the attack.
read this also- Chhattisgarh Naxal attack: Naxalites armed with rocket launcher and AK-47, surrounded the troops in U shape and fired indiscriminately.
read this also- There was only one lab for the corona test, now more than 2,000: Dr. Harsh Vardhan
.