You can do anything unrestrained by sitting in the shell of a fake name and ID on social media. Even if you do not have a face, no name and identity, you are still a database of the masculine prejudices and ideas of this society.
In 2003, Italian director Marco Tulio Joradana made a six-hour-long film – The Best of Youth. There is a sequence of this film, in which the two leading characters of the film, Nicola and Julia are going to become parents. Julia is pregnant. 1966 is the time. Both are Liberal activists and have not married. When Nicola's parents come to visit her granddaughter after the child is born, Nicola's mother tells her husband, "Don't say anything about having a child without getting married." Now nobody pays attention to these things. The time has changed. "
This is Italy of 1966.
Another 2018 French series is on Netflix – 'The Hookup Plan.' The story of three news age women. One of them is pregnant and lives with her boyfriend. Before her delivery, when her boyfriend asks the girl to give her a wedding ring if she will marry him, the girl turns around and looks at him as if he suddenly started speaking in Hebrew while speaking French. Surprised, tearing eyes and then says, "Don't know, I haven't thought about it yet."
Nothing could be more cultural shock for us. It is also fine to stay together without marrying and to produce a child, but refusing to marry even after having a child is a different level. Seeing this, I also tried to digest this thing by surprise.
These two are stories of Europe. There is another story, a little backward, a little less rich, a little less modern country of Mexico. Amelia, a woman works in research and Susan's house in the 2006 Aljandro Gonzalez Eniitu film Babel. Amelia is a resident of Mexico. When she goes to Mexico for her daughter's wedding, while watching the film, I was surprised to see that the beautiful white wedding gown and the girl in flowers is pregnant for seven months. The entire family and family are involved in his marriage. Many years later, a Mexican girl friend from Facebook, Andreana Norton, also shared photos of her wedding when I found that her wedding gown had a bloated belly. She became the mother of beautiful twins after three months of marriage. He was also married to the family and friends with a full-blown gazelle.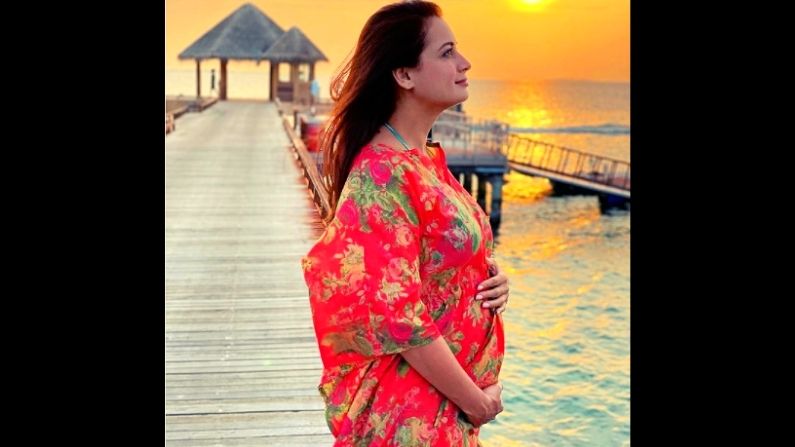 This is not just about Italy, France or Mexico. In many cultures of the western world, being the mother of the unborn is not a taboo. There is no direct connection to child and marriage. Many people live together, they also have children and are not necessarily married. They may or may not marry even after many years of forming a family. Overall, the matter is that the society has no rigid rules about these things. No child is illegal in that society. Every child is a citizen of the country, every child is the responsibility of the state. From child care leave to financial assistance, every woman gets equal. Even if you are a husband or not.
After getting to know, understand and look at all these cultures of the world, when we see Diya Mirza being trolled on social media because she posted her picture on social media with Baby Bump after just one and a half months of marriage. It is as if the dipping of our development has freeze somewhere in time and we have refused to move forward.
The citizens of the Internet are not only questioning that picture of Dia Mirza, they are also announcing their decision, they are also making fun of them. Telling how he is a stigma in the name of both Indian culture and Indian woman. She had become pregnant before marriage, as if it was a serious crime.
It can be said that there is no need to take seriously the things being written on the Internet and social media. To troll and to troll is the character of the Internet. Despite this fact being true to some extent, we cannot deny the fact that what is happening on social media is also a part of the debates and discourse of the Hindi public sphere.
The language and the way in which people are talking on the Internet is a collective cultural character of our society. Earlier, the things that people used to do in private and in their group of friends, are now doing it publicly in front of thousands of people on social media. There is a facility to hide your face, name and identity.
Sitting in the shell of a fake name and ID on social media, you can do anything unrestrained, say anything about anyone. Even though doing so is not revealing your identity, your public image is not even considered, but still your views are a detailed database of this society's masculine prejudices and ideas. There is no face behind the idea, but there is a whole society behind it. Social media and trolls here are the public posters of backwardness of Indian society, masculinity and orthodoxy sitting at its roots.
Social media comments on Diya Mirza are just a small example of this public poster.
read this also-
It is the responsibility of the country to decide whether women are discharged, relaxed, due to untimely abortions
After this report, will the women in the advertisements change from being goddesses and sex objects to just human beings?
.