Bridal Skin Care Guide: When and How to Start Preparing… (Wedding Beauty Regimen: Easy Skin Care Routine For All The Brides To Be)
When dreams come true in innocent eyes, then the lips become roses and the eyes become wine. The girl wants to be engaged and what is wrong with it, after all this day is the most special and important day of life. But in order to look the hottest on this special day, your preparation should start well in advance, when and how to start this preparation, for this we have brought Bridal Skin Care Guide, which is very simple and will tell you when and how skin care routine Let's start off right so that nothing is missed on the wedding day and you look like the most beautiful and perfect bride!
When and how to start preparation?
You should start your preparation and planning from the day of engagement or as soon as the wedding date is final… but it is important that you start your preparation at least 3 months before the wedding and do not keep anything for the last minute. . Last minute rush is very stressful and tiring, so avoid it.
Follow skin care routine. Cleansing, Toning, Moisturizing. By experimenting a little, you will know which beauty products suit you, because this is the time to experiment.
Take care of the skin of the whole body, not just the face. Don't forget to apply sunscreen while going out.
Sunscreen must be applied not only on the face, but also on the part of the body that comes in contact with the sun.
If there is a problem of tanning, then get it done. You can also try domestic ubtan.
If there is a problem of pimples, then meet the skin specialist and start the treatment.
Use a vitamin C serum for a smoother effect on the skin. Vitamin C serum keeps the skin wrinkle free and makes the skin soft and smooth. The anti-oxidants present in Vitamin C give a youthful look to the skin. It also protects the skin from the harmful rays of the sun.
There are many benefits of tinted moisturizers. It gives a natural glow to the skin.
Start working out regularly. It would be better to join the gym under the supervision of the trainer. This will increase your fitness level. Extra fats will come out. The body will remain in shape and toned, toxins will also come out.
Also start yoga and pranayama so that you will be stress free and relaxed. Along with this, your skin will also breathe and it will get healthy glow.
Start a healthy diet about 3 months before the wedding. If you are a fan of unhealthy or junk food, then it is better to change your diet plan now and try healthy options. This will affect not only your health but also your beauty.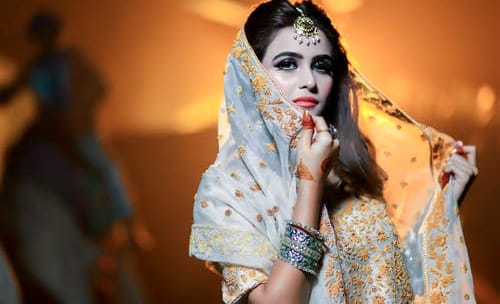 Start getting regular facials 3 months before the wedding.
Use body butters, so that the skin remains moisturized.
Try different shapes and different shades of nail paints for nails.
If nails are broken, then take treatment for them too. As soon as there is engagement, start weekly manicure-pedicure.
Finalize your skin care routine after consulting a beauty expert.
Avoid harsh chemical soaps and face washes. You start using paste of gram flour, milk and turmeric.
Pay special attention to the elbows, knees and ankles, which are often overlooked. Massage these areas with lemon juice. This will also remove the blackness there and the skin will become healthy.
Try makeup looks and decide which one you want to have the perfect look for the wedding.
Makeup test run is essential so that there is no confusion on the wedding day.
Take the advice of your beautician and get the eyebrows shaped and decide what shape you want to finalize. It should not be too thin or too thick.
Take teeth whitening treatment and get all the problems related to teeth properly treated.
Finalize hairstyles and haircuts.
Follow a hair care routine for a healthy glow in your hair.
Start conditioning the hair about a month before the wedding.
Start keeping yourself stress free and be happy. Stress not only causes mental fatigue, but also the skin starts flaking, there is a problem of pimples. The happier you are, the more glowing your skin will be.
Get your sleep Lack of sleep also leads to problems like pimples, dark circles, dull skin and hair fall.
Along with getting enough sleep, take a healthy diet, because what you eat will affect the health of your skin and hair as well.
Try not to eat too much upside down, which can upset the stomach.
Avoid moving around a lot.
Do not tire yourself so much that there is no energy left on the wedding day.
Drink plenty of water, eat fresh fruits and light food.
Use homemade ubtans, so that the skin becomes healthy and glowing in a natural way.
Pamper your feet to make them beautiful and eliminate fatigue. Take warm milk in a tub and add water vanamak to it. Dip your feet in it. Wash off with water after half an hour. Milk contains lactic acid, which makes the skin soft and smooth.
Stop using any new products or cosmetics three weeks before the wedding. It may not suit your skin and you may have a reaction, as it can take up to two weeks for any reaction to become normal.
Avoid sodium from about a week or 15 days before the wedding. This will make a difference in weight loss and you will also feel healthy weight. Avoid using too much salt.
If you are thinking of getting hair color or highlights, then get the coloring done at least two weeks in advance, so that the hair color gets time to set.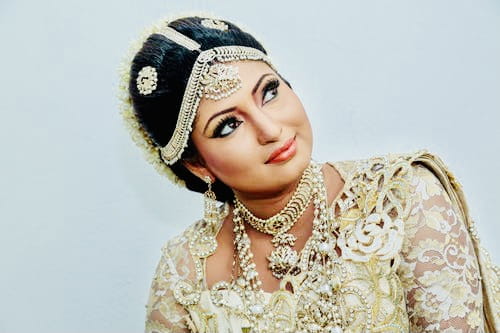 Try home remedies for healthy hair and glowing skin…
Massage oil into the hair regularly.
Shampoos and conditioners containing olive oil eliminate dryness of the hair.
Applying mashed avocado in the hair makes the hair silky smooth.
Use rice milk to bring shine to the hair. For rice milk, grind rice with water. Mix 2-3 tbsp of honey in 1 cup of rice milk. Apply this mixture on the scalp and hair. Wash your hair after 15-20 minutes.
Even after applying curd or mayonnaise in the hair, they become smooth.
Scalp massage by mixing lemon juice in oil removes the problem of dandruff.
Use honey to give a healthy bridal glow to dull skin. Apply honey on the face daily for 10 minutes.
Late marriages have started happening these days, so if you are going to become a bride at the age of 30, then use a pack of egg white to tone the skin and give it a youthful look. Make a paste by mixing gram flour in the white part of the egg. Apply on face Wash off when dry.
Rubbing a piece of papaya on the skin removes the blemishes and makes the skin glow.
Mash and mix the pulp of papaya, grapes and banana. Apply on face. Wash off after 20 minutes.
Make avocado oil your body massage oil. Massage before sleeping at night. It makes the skin soft. It also heals the skin. You can also massage the cuticles with this.
Use rose leaves to give a rosy glow to the skin. If you have oily skin, then crush rose leaves with milk and if it is dry, then crush with milk cream. Keep this pack on for 20 minutes. Wash face.
Take a bath by mixing milk in the bath water.
If you want, you can also add rose petals.
Rubbing strawberries or lemon on the teeth removes the stains of the teeth and brings a healthy white shine in the teeth.
Massage the lips with cream, this will moisturize the lips and their blackness will also go away.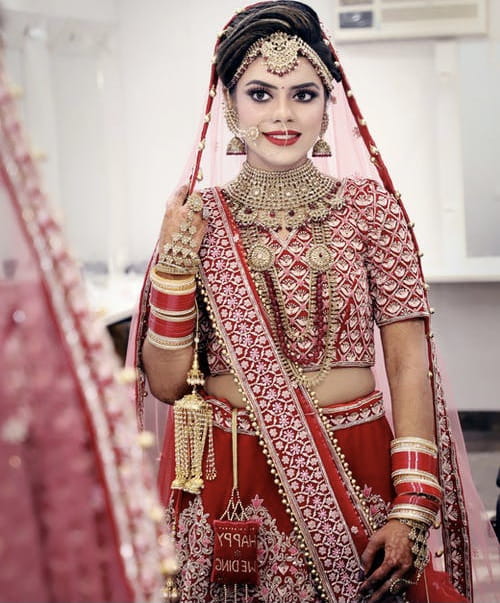 What to do, what not to do?
Avoid crash diet a month or two before marriage, it can be bad for your health.
One week before the wedding, do not use any new skin or hair products and do not experiment with hair cut and hair color.
Avoid heat treatment.
Get the split ends trimmed.
Always keep a plan B wedding ready, such as – if there is any change in makeup, hairstyle or dress, then keep the second look final.
Don't panic. If there is a pimple a day before the wedding, then do not over treat it or else it will emerge reddened. Your beautician will hide it with concealer, so don't stress.
Take the final trial from dress to makeup again a day or two before.
Prepare everything from accessories and keep it in one place and do not leave any work for the wedding day.
Do not get facials done a day or two before the wedding or else the skin will look oily.
Similarly, do not get eyebrows done a day before, but a day before, make sure to check that if there is any extra hair left, then pluck it.
Avoid waxing a day or two before the wedding. It would be better to get waxing done a week before.
Although laser hair removal is quite popular nowadays, you can also keep that option in mind a few months before the wedding.
On the day before the wedding, neither overeating nor be hungry.
Do not apply some chemical-rich products on the skin before a week before the wedding.
Do not apply anything on the skin on the wedding day. Let him be humble.
If even after so much preparation, something happens on the wedding day, don't smile, because your smile will make you the most beautiful bride .
Pinky Sharma