In the fourth issue of Ram Raah, we will know about the areas of Chhattisgarh.
Ramraah: In the fourth issue of 'Ram Raah', you will be told about the places in Chhattisgarh where Lord Rama came during his exile. Also, you will know what are the beliefs in those places today.
This is the fourth issue of NewsNCR Digital's special series Ram 'Rah'. So far three issues of the series have been released. In this series based on the exile of Lord Rama, it is being told about the places where Lord Rama went during his 14-year journey of exile. Along with this, the series also mentions the journey of Lord Rama along with brother Lakshman and Muni Vishwamitra to Janakpur (Nepal) and in the first issue of the series only that journey has been told. Actually, it is being told in Ram 'Rah' that Lord Rama is in exile. (Ram Van Gaman) Through which places, during which they had reached Lanka.
Also, in the series it will be told that the path by which Lord Rama reached Lanka, what are the main places of that route and what are the episodes associated with Ramayana there. With this you will be able to understand where Lord Rama, Lakshmana and Mother Sita stayed in Ram Van Gaman Yatra and what are the beliefs in those places today…
What was told in the last issue?
After traveling up to Chitrakoot in the second issue, information about the journey beyond Chitrakoot was given in the third issue. In this issue, the route from Chitrakoot to Umaria in Madhya Pradesh was told, in which the place of Shradh of Dashrath ji, the name of the demons etc. was mentioned. Apart from this, you were told in this issue that at which places Lord Ram stayed from Chitrakoot to Shahdol and through which cities of Uttar Pradesh reached here. At the same time, it will also tell you what is at those places today and wherever a place has been made, what is the belief there, what are the contexts related to Ramayana.
What will happen in this issue?
So far in Ram 'Rah', we have covered the path from Ayodhya to Janakpur and from Ayodhya to Shahdol in Madhya Pradesh. Now in this issue information will be given about the way ahead, which is in Chhattisgarh. Actually, it is said that Lord Ram spent a lot of time in exile in Dandakaranya and this is today's Chhattisgarh. Apart from this, many people believe that Lord Ram lived in Chhattisgarh and surrounding areas for 10 years, so there are many such places where the stories of Ram's arrival are prevalent.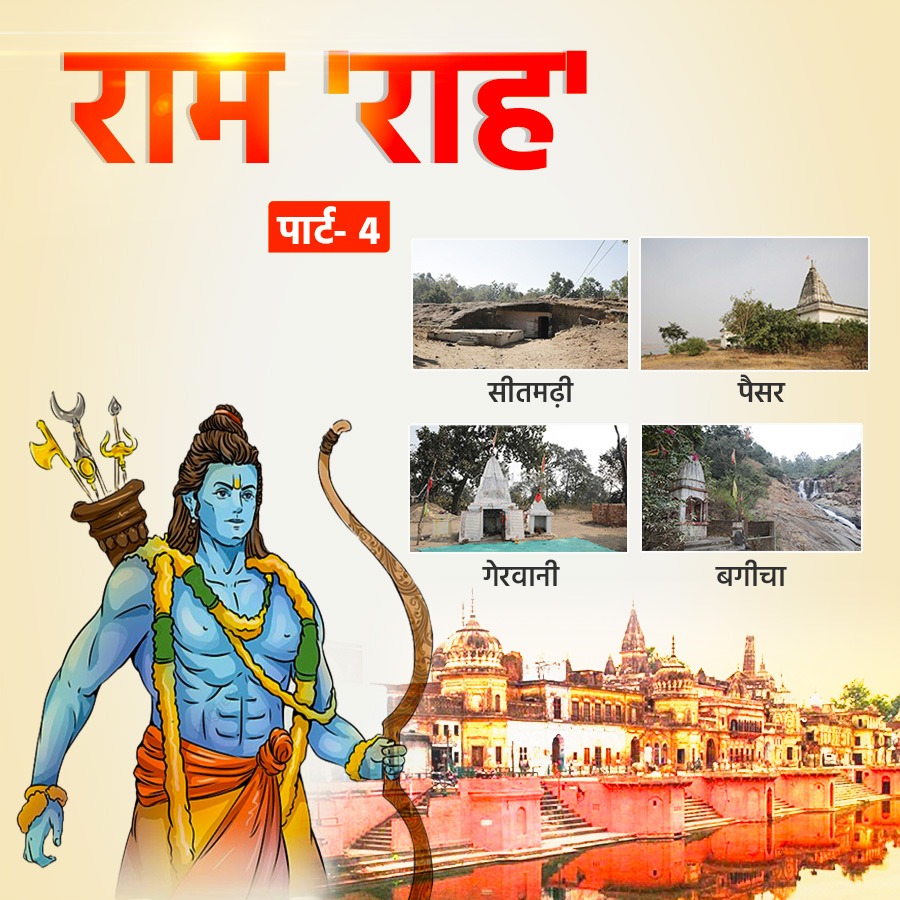 Let us tell you that the Chhattisgarh government has also started a project to build a path for Ram Van Gaman in the state, in which about 70 places have been connected with Ramvan Gaman. In the Ram Van Gaman Path being built from Korea district to Sukma, people will have darshan of Lord Shri Ram at every step. The places we will give you information in this issue are in Chhattisgarh only. In this issue many places of Chhattisgarh will be told and some places will be included in the next issue. After this you will be able to know at which places of Chhattisgarh Raghuvar had laid his feet.
Not much information in Ramayana
According to the book Vanvasi Ram and Lok Sanskriti written by Dr. Ram Avatar who has been researching the pilgrimages of Lord Rama continuously for 48 years and his website, Lord Ram had spent about 10 years in the exile of 14 years in and around Chhattisgarh. But, there is not much mention of these 10 years in Valmiki Ramayana and Tulsidas ji's Ramayana Ramcharitmanas. In the 14 years of exile of God, the description of 10 years has been completed only in a few quadruples, that is, there is no specific information about him. In Valmiki Ramayana, only 3-4 verses have been written for 10 years and Tulsidasji has written description of 10 years in only half of the couplets. Tulsidas ji has written-
I should not do anything, I have raised my arm.
The ashrams of the gross sages are known, the happiness is dinh.
In such a situation, the places of Chhattisgarh that we are telling about, most of the places related to Ramayana are due to folk beliefs and people's stories. So it is not possible to put it in a map, so we are telling you where the stories of Lord Rama's arrival are prevalent in this area.
Where did Shri Ram go in Chhattisgarh?
Harchoka- There is Sitamarhi on the banks of the Mabai river. It is believed that Sita Maa had food here. Let us tell you that many Sita cooks have been found from Ayodhya to Panchavati and this is also one of them. Sitamarhi has been named after many places.
After this there is also a Sitamarhi in Rapa. The ancient Deity of Lord Shiva is established in a floor house on a hill on the banks of river Rapa. It is said that during the exile, Shri Sita-Ram ji had rested for the night here.
Apart from this, there is also a Sitamarhi on the banks of Neur river in Chhatora, for which it is said that Lord Rama had eaten and rested here.
Vishrampur- The ancient name of Ambikapur has been Vishrampur, where there is a temple of Lord Rama. It is believed that Lord Rama and Mother Sita stayed here for many years. Many folk tales of Shri Ram's exile are prevalent in this area.
will fly- This place is very popular not because of Lord Rama, but because of his brother Lakshman ji. It is said that during the exile, Shri Ram lived in the forests of Sarguja for a long period. Lakshman paw is also found along with other relics in the memory of his journey i.e. here are the holy feet of Lakshman ji. Now the people of the forest perform Bhandara here and ask for a vow to Lakshman ji. Come back after work.
Payan Marhatta- The meaning of Payan is Step. It is believed that during the exile, Shri Ram, Lakshmana and Sita ji went through this route. From here onwards he crossed the Mahanadi and here are his feet.
sheer- It is said for Sarasore that here Lord Rama killed a demon named Sara and worshiped Lord Shiva. It is said that a demon named Sara used to harass the ascetics here and Lord Rama had secured the area by killing him. Now a fair is also held here.
Shiv Mandir Garden- Here Sita Maa planted Tulsi plants to protect the forest dwellers from cold fever. Then Tulsi garden was established and this area became famous as Garden. It is believed that wherever Mother Sita used to go, she used to carry seeds for Tulsi plants with her.
Laxman Panja (Ringar Ghat)- It is said that Lakshman ji killed the demon who was wandering in the form of Varaha. Here the footprints of Lakshman ji are made on the stone which is worshipped. Now a fair is held here on Kartik Purnima.
Laxmigudi (Jaspur)- It is said that Mother Sita taught the women of the forest to make bamboo baskets here. At the same time, Laxman's feet are worshiped in the forest near Gerwani village on the Raipur-Gharghoda road. It is believed that Shri Ram Janaki had gone from here. 21 KM from Raigarh to Raigarh. Ram Jharna is situated in the forest near Bhupdevpur station. It is said for this spring that Lord Rama, Sita and Lakshman had bathed here. It is a miracle that the water of the spring does not increase or decrease in any season.
Pacer Ghat (Pacer)- It is said for this place that Sitaram ji crossed the river from here during his exile. After this there is Vishram Vat Gidhori, where there is an ancient Vat tree, which is called Vishram Vat. It is believed that all three took rest here. Let us tell you that many ashrams of Maharishi Valmiki have been found in Ram Van Gaman Path and there is also an ashram in Turturiya.
Shri Ram Mandir (Gullu)- It is believed that while traveling along the banks of the river here, Shri Ram crossed the Mahanadi near Gullu. Once the Mahanadi used to flow adjacent to Gullu. Then the water of the river used to come in the stepwell of the temple. At the same time, 49 kms from Raipur. There is an ancient Shiva temple in distant Arang, which is said to have been established by Lord Shri Ram during his exile. Apart from this, the Fingeshwar Nath temple was also established by God.
(The information given in the article has been obtained in collaboration with Dr. Ram Avtar. Dr. Ram Avtar has done research on behalf of Human Resource Development, Government of India on the subject of Vanvasi Ram and his impact on folk culture after approval of the research plan. Also visited the journey of Ramvan Gaman and visited the places related to Lord Rama. Also have given this information in his book and this information is also on the website. So this series has been made with his cooperation. )
: Language Inputs