Sometimes the sting of mosquitoes gives a lot of pain.
Image Credit source: NewsNCR GFX
Mosquitoes' Facts: There are some amazing facts about mosquitoes. As most mosquitoes bite men, pregnant women or people who are overweight.
Why does Mosquito Bites us: Somewhere you are sitting peacefully, reading something or doing some other work… Meanwhile some mosquitoes making sudden noises (MosquitoesIf you come, if you bite, then the mind gets angry right away, doesn't it! Ji wants to kill him only while cutting. Sometimes you might even kill! But why do these mosquitoes come? Obviously, we drink human blood. Actually human bloodHuman Blood) There is a favorite snack for them. That's why they smell humans (Smell) falls behind. Many times it also happens that first one mosquito comes, it drinks your blood and then a lot of mosquitoes come.
It seems as if the first mosquito went after drinking blood and went to tell others or brought them to drink the blood. Like people call to a feast! Well this is a matter of laughter, but do you know which are those mosquitoes, which suck the blood of us humans? Why do they do this? How much blood does a mosquito suck? How much blood will be lost if a lot of mosquitoes bite? And if one million mosquitoes are bitten together, will there be blood left in the body or not? Let us know the answers to these questions.
There are about 3500 species of mosquito
Just as it is a fact about snakes that not all species of snakes are poisonous, similarly the fact about mosquitoes is that not all mosquitoes suck the blood of humans. However, let us first tell that there are about 3500 species of mosquitoes in the world. There are only a few hundred species among them, which drink human blood. The presence of mosquitoes depends on your environment. Mosquitoes are rarely found in very clean places. If there is grass, water logging, open drains, garbage around you, then mosquitoes breed more there.
Only female mosquitoes drink blood
If you have not already known, then it may surprise you that only female mosquito drinks human blood and hence she bites humans. The reason is that it needs the nutrients present in human blood to make eggs in its body. If you look closely at the female mosquito that bites humans, then her mouth looks like a straw to you. It is called Proboscis in English.
This straw (Proboscis) is inserted by the female mosquito into our skin. When a female mosquito bites humans, it finds blood tubes under the skin and sucks blood from there. Mosquitoes leave their saliva in our blood, the anticoagulant present in it, does not allow our blood to clot and in this case it is easier for the mosquito to drink the blood.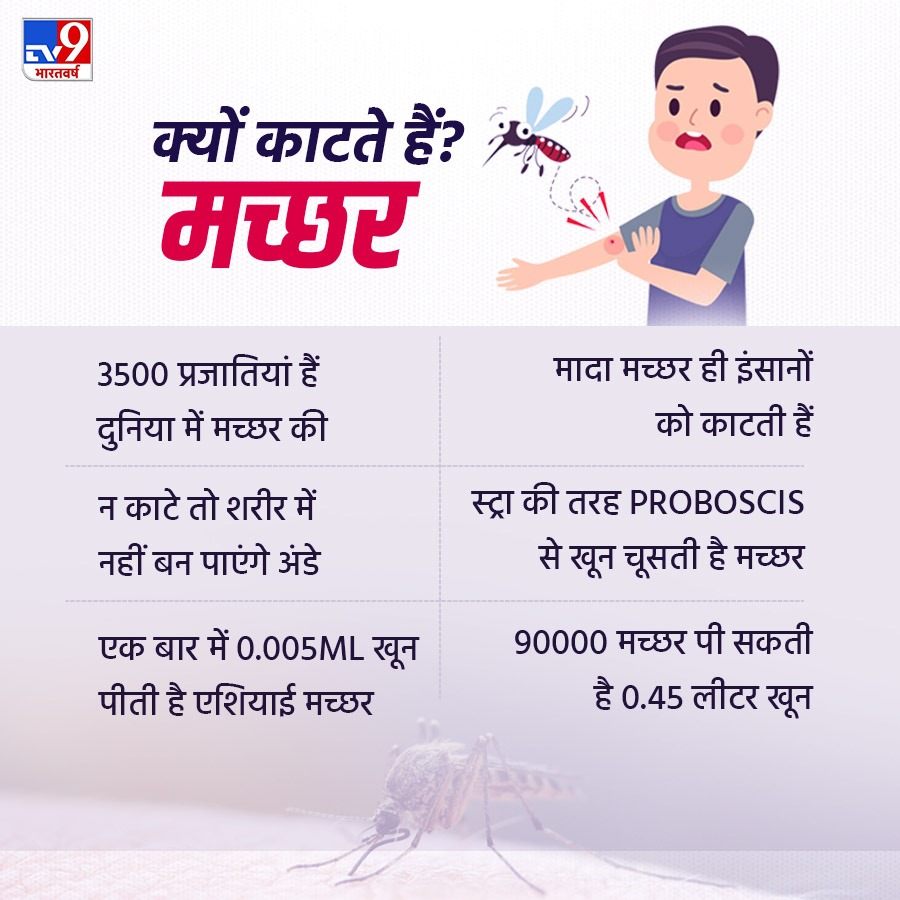 O blood group people are more victims
According to a report, there are some amazing facts about mosquitoes. As most mosquitoes bite men, pregnant women or people who are overweight. One fact is that mosquitoes bother people with O blood group more than people of other blood group. Mosquitoes bite people with O blood group at twice the speed than people of other blood groups. If your blood group is O, then there is a possibility that even one million mosquitoes will bite you in one go.
What happens if a mosquito bites, how much blood does it drink?
When a mosquito bites you, it is the first time you feel something on your skin. The sting of female mosquito is very fine and sharp. As if someone is pricking a needle. Mosquitoes bite while sitting on your skin till you fill your stomach. According to reports, the Asian mosquito can drink as much as 0.005 ml of blood in a mustard seed at a time. After a mosquito bite, you feel itchy and there it turns red. This is called Skeeter syndrome.
Your skin gives an anticoagulant response to mosquito saliva. Because of this, your blood does not freeze and because of this mosquito can suck your blood as long as it wants. Sometimes you can also get sores on your skin due to mosquito bites.
What if 90,000 mosquitoes bite?
There is nothing special if one or two mosquitoes bite you. You can tolerate if even a handful of mosquitoes bite you. But imagine what would happen if 90,000 mosquitoes bite you. If you look at 0.005 ml per mosquito, then 0.45 liters i.e. 450 ml of blood will come out of your body. You must have given so much blood in blood donation! To be bitten by so many mosquitoes would mean that mosquitoes would have bitten 5 times per centimeter square area of ​​your body. You may get headache, dizziness after being bitten by 90 thousand mosquitoes. You will feel yourself physically weak. You will feel like you are about to vomit.
And what if one million mosquitoes get bitten?
If this happens then your condition will become slim. If you are bitten by only about 2,20,000 mosquitoes, then 20 percent of your body's blood will be gone. You will feel hypovolemic shock. It is a kind of medical condition. Many parts of your body can stop working. Even your heart can stop blood circulation. Your ability to think and understand can also end. You will always be in a dilemma whether to do or not to do something. Now imagine that only 2.20 lakh bytes of mosquitoes will make you feel like this. And if one million mosquitoes bite you, then 5.5 liters of blood will be lost from your body. You can even die in this situation!
Follow NewsNCR on Google News for more such great stories.
: Language Inputs